Produktbeschreibung Uni-T UT18D:
 

Sofort bestellbar - Sofort lieferbar ! Fragen herzlich willkommen !!

- Wir beraten Sie sehr gern - !

 

 

Spannungsprüfer (AC, DC) / Detektor - ganz Einfach in der Handhabung 
Sie berühren einfach mit den Messspitzen zwei Punkte einer Klemmleiste, oder Schaltung.
Je nach anliegender Spannung leuchtet eine entsprechend LCD Anzeige !
Die Spannung wird zudem auf dem großen Display angezeigt.
Displaybeleuchtung ist zuschaltbar.
Der Tester ist mit einer LED zur Beleuchtung der Messspitzen ausgestattet.
Der Tester detektiert Phasen Rotationsrichtung,
kann auch als Durchgangsprüfer genutzt werden und
verfügt über RCD Testfunktion.

Ideal für jeden Handwerker bei Elektroinstallationen
IP65, CAT III 690V, CAT IV 600V,
Technische Daten / SPECIFICATIONS

UNI-T 18D
Funktion /

Technical Functions/ Features

Uni-T UT18D

Spannungsanzeige,

LED Schritte /

Voltage LED Steps (AC/DC)

LED 12V: between 0 to 12V LED will illuminate
LED 24V: between 19V ± 2V LED will illuminate
LED 50V: between 48V ± 6V LED will illuminate
LED 120V: between 110V ± 20V LED will illuminate
LED 230V: between 200V ± 20V

LED 400V; between 340V ± 30V
LED 690V: between 520V ± 30V

Durchgangsprüfung

Continuity Test

Durchgangsanzeige über LED und Signalton

Range 0 to 100kO. The continuity LED will illuminate
and buzzer will sound.

Phasen Rotationsanzeige /

Phase Rotation Test

L / R

50Hz to 60Hz

für Dreiphasennetze

Bereichsumschaltung

Range Selection

automatisch /

Automatic

Polaritätserkennung /

Polarity Detection

Positive & Negative
RCD test
JA, YES

Haltefunktion /

Hold function

JA, YES

Anzeige schwacher Batterie

Low Battery Display

JA, im Display - Batterie Symbolik

Torch,

LED Licht

JA, YES

Einpol (L2) - Spannungsdetektion

Single Lead (L2) Voltage
Detection

Gedacht als Schnellvortest, >100V, 50-400Hz,

It is intended only as a quick check. 100V to 690V;
50Hz to 400Hz

Short Circuit Detection
JA, YES
LCD display (AC/DC)

Spannunsanzeige im Display

24V to 690V: ±(3%+5)
GENERAL CHARACTERISTICS Uni-T UT18D
Stromversorgung

Power

1,5V Batterie x 2 (AAA)

1.5V Battery (AAA) x 2

Anzeigeabmesung

LCD Size

UT15C - 23 x 12mm

Produktfarbe

Product Color

rot und dunkelgrau

Red and Grey

Gewicht

Product Net Weight

275g

Produktabmesung /

Product Size

272 x 85 x 31 mm

Standard Zubehör

Standard Accessories

Batteries, English Manual

Standard Individual Packing


Blister
Versandgewicht: 0,5kg
die Bedienungsanleitung (Manual) zum Uni-T UT18D finden Sie hier:
weitere Infos zum Produkt von Uni-T unter: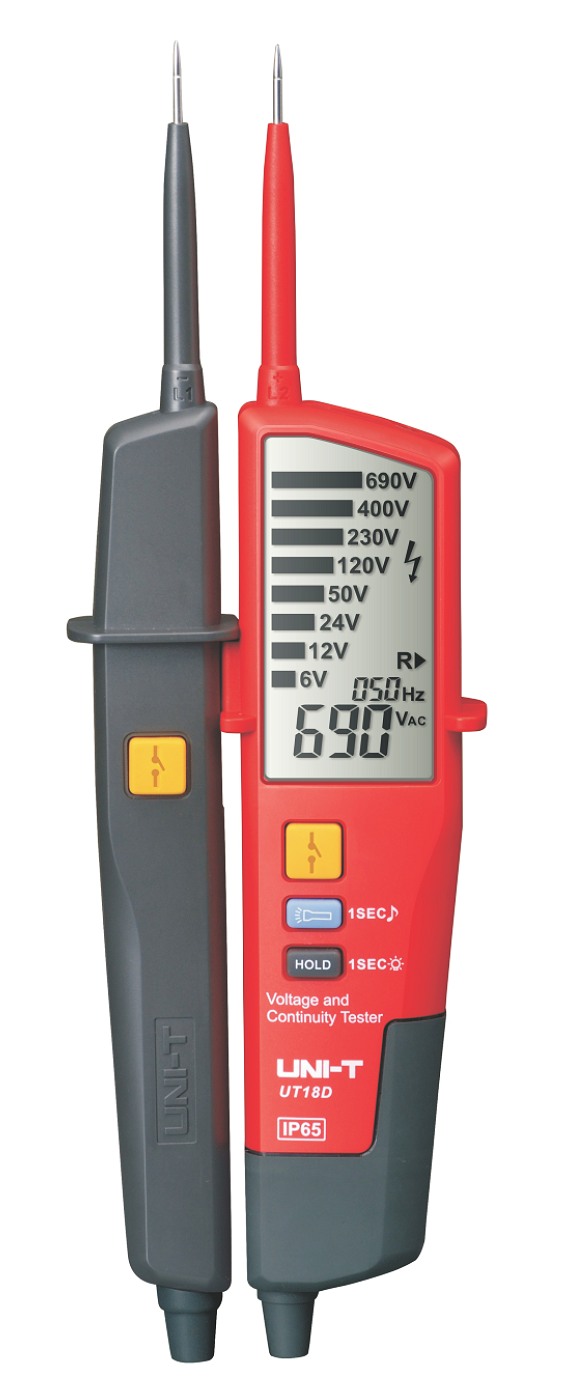 ! Fragen sind herzlich willkommen !